MOBILE MARKETING AGENCY
Social Advertising
Social Advertising in 2020
Since the start of 2019, spending on social advertising has already topped $100 billion*—a 37% increase over this time last year—and is expected to grow at an annual rate of 24.5%. By 2023, companies will likely invest over $242 billion in social advertising campaigns.
Facebook and Google earned 60% of social advertising dollars ($65 billion) in 2018. Although their market share is expected to hold fairly steady in 2019, Facebook and Google may see their revenues climb to $77 billion** in the U.S. alone.
* statra.com **recode
Do you need a social advertising campaign?
Social advertising is the process of creating and deploying clickable ads to reach target audiences through social media platforms, messaging apps, news feeds, and even outside apps and websites.  If you want to increase your advertising budget, social is a perfect avenue invest in to increase in market leads. Looking at the numbers
traditional to digital advertising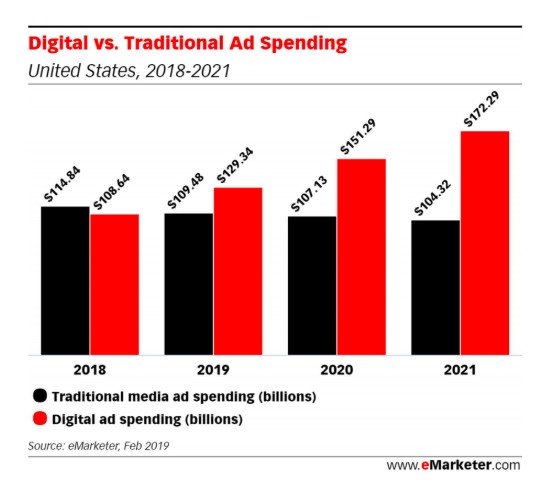 It was inevitable, but it's finally here: Digital advertising businesses like Facebook, Instagram, and Google will be bigger in the US this year than traditional advertising businesses like TV, radio, and newspapers.
New estimates from eMarketer show that US advertisers will spend more than $129 billion on digital advertising in 2019 — more than the $109 billion they plan to spend on "traditional" advertising.
It would mark the first time ever that the US digital ad business made up more than 50 percent of the market.
The digital ad industry in the US has been growing steadily for years, primarily thanks to two behemoths: Facebook and Google*. Even though digital advertising was just half the size of the "traditional" ad industry four years ago in 2015, it was only a matter of time before the two swapped roles.