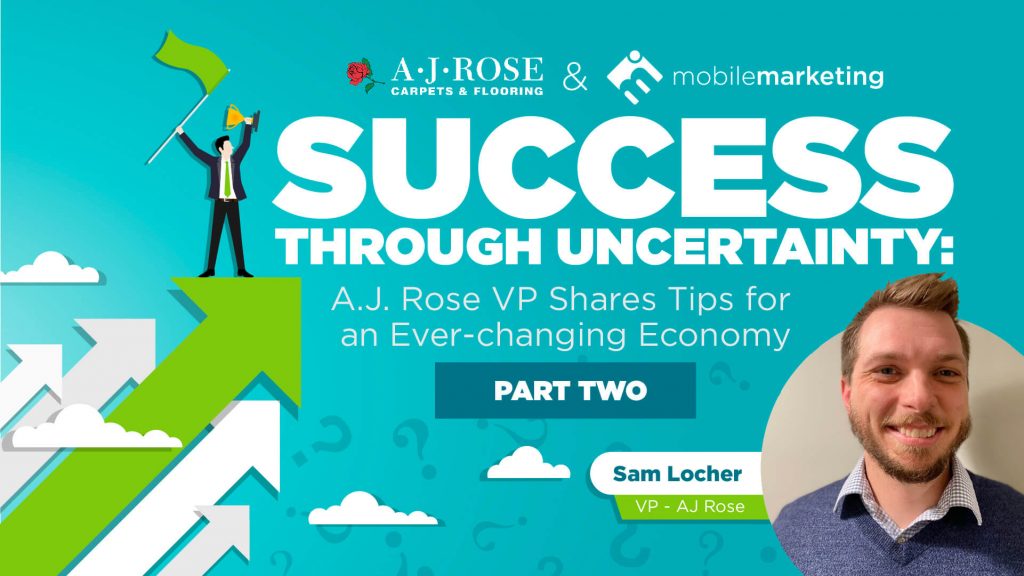 Success Through Uncertainty: A.J. Rose VP Shares Tips for an Ever-changing Economy, Part 2
Family-owned since 1977, A.J. Rose Carpets & Flooring is a leading flooring retailer in the New England area. With three locations and a wide range of fantastic flooring products and services, they've continued to flourish with each passing year, thanks to their strong values and superior customer service. With a reputation as a first-class, honest business, A.J. Rose, a proud member of the NFA (National Flooring Alliance) and Shaw SFN, has found success in the flooring industry for more than 40 years.
We sat down with Sam Locher, Vice President of Business Development at A.J. Rose, to discuss the power of social media, the importance of having a good website, and what separates A.J. Rose from its competitors.
If you missed part one of our conversation with Sam, you can find it here.
The following interview has been edited for clarity and length:
Mobile Marketing (MM) – Can you talk about some of your successes thus far in 2022? What do you hope to build on as the year continues?
Locher – We've been pleasantly surprised. Our sales have increased, and we're up over last year, which was a tremendous year. We will continue to control our costs and prepare for the possibility of a lean year.
We will continue to build on our recycling program, where we recycle carpet and carpet pads. So, people can feel better about replacing their flooring because of that green aspect.
We constantly re-evaluate our processes and what we do as a business. We never say, "this is what we're going to do because this is what we've always done." We look at what makes a good investment for us.
MM – How important is it for a flooring retailer to have a strong website? What aspects of your website have you found helpful in terms of engaging customers and bringing in business?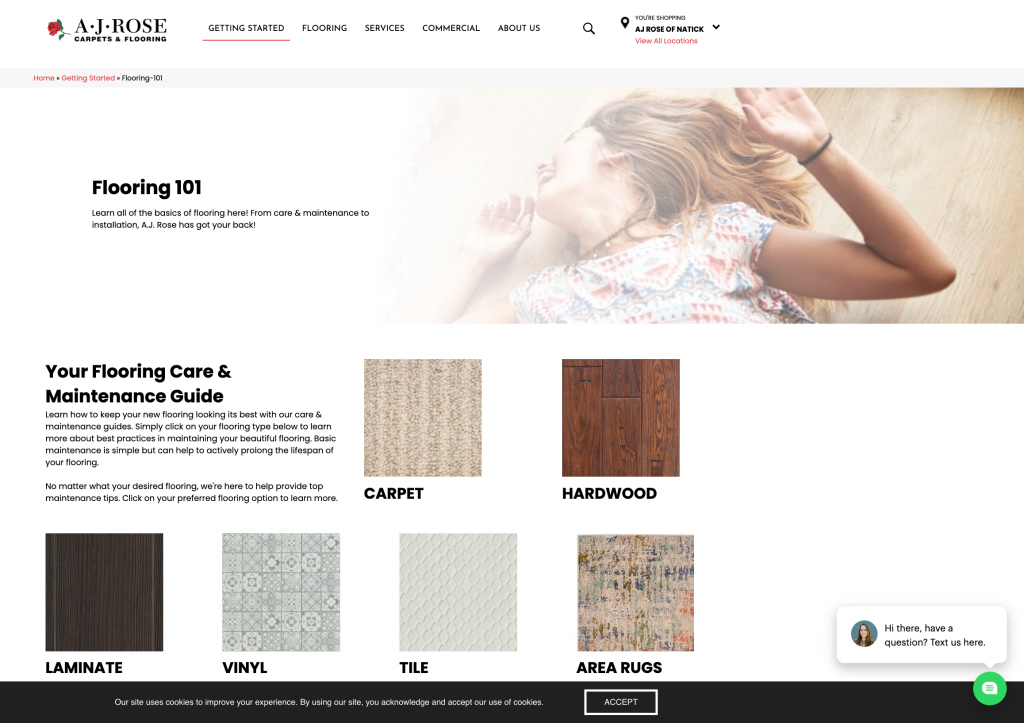 Locher – I don't know how you can operate a business without a website anymore, especially a retail business. Your website is the first place most people go to find out who you are and what you offer. We get a lot of good leads from our website, both organically and through Google paid search.
We believe the chat function on our website is a necessity for our customers. We get a lot of communication through that chat. We find more people are willing to engage with chat than to fill out a form with all their personal information. The chat comes right to my phone, so I can stay on top of it.
Having the Roomvo room visualizer on our website is also valuable. Customers can see flooring products in their own homes, virtually.
MM – To what extent do social media and email marketing impact your business?
Locher – We've worked recently on making our social media more relevant to customers, and our engagement shows it's working.
We have a large customer list of more than 25,000 people that we send emails to. We do no more than one communication a month. We want to be available but don't want to seem aggressive. That's our general sales philosophy, too. We will meet you where you are; we're there where you need us.
MM – Your customers rate you very highly. What is it that sets you apart from your competitors?
Locher – We're unique in our market because, in New England, you're either a really small dealer or a big box store. There's not a lot of in-between, and there are not a lot of flooring chains. We have one of the largest showrooms, with full retail and a design center. We're a family-run business you can feel good about doing business with, and we understand the community.
We put the effort in and try to constantly improve.
Mobile Marketing + You
If you're a flooring retailer, Mobile Marketing is here to help you create a digital strategy for your flooring or DIY company. Whether your company is looking for help with custom blogs, SEO, website design, social media, or building an entire digital media strategy, our trained industry experts can help. As the preferred digital partner of the NFA, we're here to help you elevate your brand with an omnichannel digital marketing strategy that brings in new customers while consistently engaging existing ones. Ready to take the next step? Contact us today!
Stay current on the recent trends, industry news, and company updates on the Mobile Marketing Blog. Check out last month's post on The Importance of Having a Digital Marketing Strategy for Your Business.