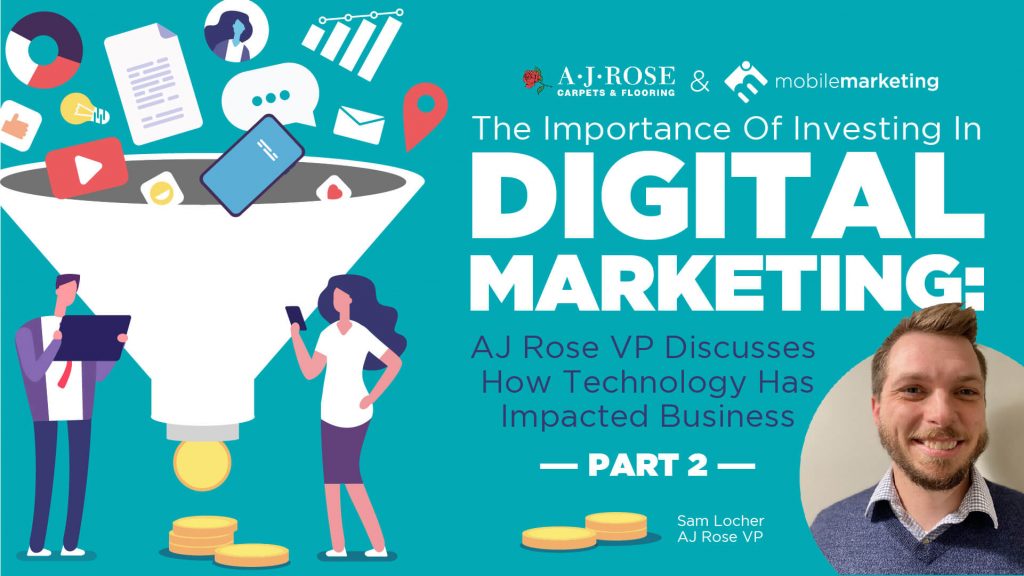 The Importance Of Investing In Digital Marketing: AJ Rose VP Discusses How Digital Transformation Has Impacted Business, Part 2
Family-owned since 1977, A.J. Rose Carpets & Flooring is a leading flooring retailer in the New England area. With three locations and a wide range of fantastic flooring products and services, they've continued to flourish each year, thanks to their strong values and superior customer service. With a reputation as a first-class, honest business, A.J. Rose, a proud member of the NFA (National Flooring Alliance) and Shaw SFN, has found success in the flooring industry for more than 40 years. 
We sat down with Sam Locher, Vice President of Business Development at A.J. Rose, to discuss the power of social media, the importance of having a good website, and what separates A.J. Rose from its competitors. 
Part 1 of this year's conversation with Sam is available here. We also invite you to read our 2022 conversation with Sam as well. 
The following interview has been edited for clarity and length.
MM – Bringing customers in can be difficult, but keeping existing ones can be just as challenging. How do you continue to keep your existing customers happy as your business grows?
Locher – Like any small business, our customer service is important to us. We always try to get more customer feedback and follow up on issues. When our customers have a complaint or a claim, we want to ensure they're happy. We want to turn a bad experience into a good thing. That can keep customers and lead to more referrals. We often ask customers how they heard about us, and they tell us you did this person's house or you were the go-to when I asked this person. We also have constant ongoing marketing to our customer base. We have an email list, and we try to keep top of mind and let them know of things we have going on and special offers. Existing customers are a huge part of our ongoing business.  
MM – How much does social media and/or email marketing impact your business?
Locher – Email marketing is very important to our business. Every time we send out emails, we see a bump in traffic to our website. We usually have about 10-20 leads as a direct result, and we're only emailing people who have given us their information. So that's closing a customer loop.
We don't go after social media marketing super hard. We find it more difficult to track our specific return on investment than other digital avenues. The closed loop on leads now and pay-per-click gives us a clear understanding of our investment. However, social media is important for brand awareness and to stay in front of the customer.
MM – What aspects of your website are most successful in engaging customers and bringing in business?
Locher – The biggest things we see engagement on are finding out information about us on the about us and location pages of our site and our room visualizer. The time per session is more than four minutes, and people are engaging with it and switching out flooring products. It's also important to have an easy-to-use and easy-to-navigate website. You want people to see your current offers and be able to find the information they're looking for without useless information or random pages that don't make sense.
Our primary goal with our website is to get someone to drive to the store to see us or have someone fill out an appointment form for us to drive to see them. We have a shop-at-home van loaded with samples. The pandemic accelerated the need for a robust shop-at-home experience, and we do still have a lot of people wanting to limit their exposure. Plus, it's a convenience factor because we have been conditioned to click a button and have our product in two days. We can offer you that, with personalized attention and service, you can't beat. 
MM – Can you talk about some of your successes in 2023? What do you hope to build on as the year continues?
Locher – We've continued to streamline our processes to create a better customer experience and a better employee experience. None of these are new ideas, but it's something we continue to build on for continued success. We will also continue to make the sales process as simple and as automated as possible for a streamlined experience. Right now, our commercial division is carrying our sales as residential has slowed down some. But our tax-free weekend, which is our biggest of the year, beat last year by more than 15%, so that's encouraging to see.
Mobile Marketing + You
If you're a flooring retailer, Mobile Marketing is here to help you create a digital strategy for your flooring or DIY company. Whether your company is looking for help with custom blogs, SEO, website design, social media, or building an entire digital media strategy, our trained industry experts can help. As the preferred digital partner of the NFA, we're here to help you elevate your brand with an omnichannel digital marketing strategy that brings in new customers while consistently engaging existing ones. Ready to take the next step? Contact us today!
Stay current on the recent trends, industry news, and company updates on the Mobile Marketing Blog. Check out last month's post on The Importance Of Investing In Digital Marketing: AJ Rose VP Discusses How Digital Transformation Has Impacted Business, Part 1.