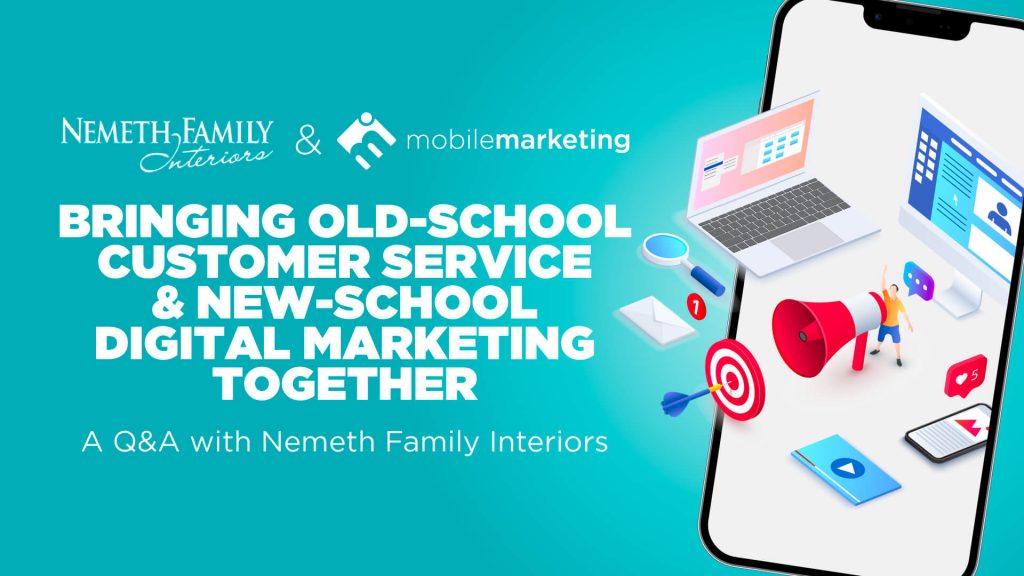 Bringing Old-School Customer Service & New-School Digital Marketing Together: A Q&A with Nemeth Family Interiors
For almost 50 years, Nemeth Family Interiors has proudly served Covina, CA, and surrounding areas with its quality product selection and stellar customer service. As a flooring retailer, Nemeth places distinct importance on customer satisfaction while ensuring homeowner's expectations are surpassed throughout the floor shopping process. 
By working exclusively with the finest flooring brands in the industry, including Shaw, Mannington, Mohawk, and Cali Floors, Nemeth supplies the products customers want most at a price point that makes sense. The perfect blend of past and present, Nemeth Family Interiors is that rare flooring retailer that places as much importance on digital marketing as it does in-store customer interactions.
We sat down with Jacob Nemeth, Sales Associate at Nemeth Family Interiors, to discuss industry trends, the importance of digital marketing, and what sets Nemeth Family Interiors apart from its competitors. 
The following interview has been edited for clarity and length: 
Mobile Marketing (MM) – What's the outlook for the flooring industry for the remainder of 2023 and 2024? 
Nemeth – At Nemeth, we've noticed an increase in our lower cast flooring options. With the possibility of a looming economic downturn or recession, more and more of our customers are opting for flooring options like carpet, vinyl, and area rugs instead of hardwood flooring or tile. While the possibility of a recession is just that, a possibility, we're definitely seeing an uptick in our more budget-friendly flooring options.   
MM – With the frequent economic changes of late, how have you adapted your approach to get ahead of where you believe the economy is going? And what role does digital marketing play?
Nemeth – I joined Nemeth, my family's business, about two years ago, hoping to revamp our digital marketing presence. Our business has been around for over 40 years, so I intended to help marry some of the old-school sensibilities that had worked for us in the past with some new-school digital marketing efforts. During my time here at Nemeth, we've experimented with geofencing and paid search, among other things, to advance our digital footprint. So far, the results have been great. But we're continually careful not to rely too much on one approach. 
MM – Can you talk about some of your successes thus far in 2023? What do you hope to build on as the year continues?
Nemeth – We've made some simple cosmetic changes to our store that have positively impacted our business. Things like a new, brighter sign out front, painting our windows, and other minor visual things have enabled us to capture more eyes effectively. 
Our work with Mobile Marketing and the SFN has always been a very successful relationship thus far as well. The level of customer care that we've seen working with Mobile Marketing has been very impressive. With a dedicated Account Manager there to help us along the way, we enjoy having the opportunity to do "deep dives" with our touchpoint as they walk us through our digital marketing efforts, touching on KPIs and overall successes in our campaigns. It's great to have someone ready, willing, and able to answer your questions.
MM – How important is it for a flooring retailer to have a strong website? What aspects of your website have you found helpful in terms of engaging customers and bringing in business?
Nemeth – We've altered our website to focus more on financing options, which has been a positive change for us. Previously, our website featured too many products, and this unruly catalog proved hard to manage and navigate, often showcasing outdated and discontinued products. Our new website is more up-to-date and customer-facing. It provides shoppers with the right information at the right time in their buyer's journey.
By using banners and compelling CTAs from our measurement and estimate services, our close rate for customers is 80-90%, which we're proud of. 
MM – How much have paid search and geofencing positively impacted your business?
Nemeth – Over the past few years, many competitors have gone out of business. At this point, our main competitors are the big-box stores in our area. This is where geofencing has been very helpful. When someone walks into a Home Depot or Lowe's, they see ads for our store. The difference between us and a big box store is that we're more hands-on in helping the customer. The experience with us is more personalized, and our geofencing ads highlight that. 
Compared to the big box stores, we have a significant advantage in our ability to provide fantastic customer service. We also have our own installation crews and excellent products, whereas our big-box competitors offer lower-quality flooring with a high markup. 
MM – Your customers rate you very highly. What is it that sets you apart from your competitors?
Nemeth – In general, we're just more hands-on than our competitors. We talk to our customers throughout the process to ensure they feel they are getting the support and guidance they need. From the initial measure and estimate to the final flooring installation, we're continually checking in and calling our customers to ensure they are 100% happy with our services. This is another key differentiator between us and the big-box stores where you're on your own after you buy their products. 
MM – Anything else to share?
Nemeth – We're overall pleased with the SFN and our relationship with Mobile Marketing. We feel we have the support and guidance needed to succeed as a business in the digital marketing space. In working with Mobile Marketing, we look forward to our continued meetings and having a dedicated touchpoint who genuinely cares about our business. Just because we're not a huge company, that doesn't make us any less important. Mobile Marketing understands that and takes excellent care of our business. 
Mobile Marketing + You 
If you're a flooring retailer, Mobile Marketing is here to help you create a digital strategy for your flooring or DIY company. Whether your company is looking for help with custom blogs, SEO, website design, paid search, geofencing, or building an entire digital media strategy, our trained industry experts can help. As the preferred digital partner of the NFA, we're here to help you elevate your brand with an omnichannel digital marketing strategy that brings in new customers while consistently engaging existing ones. Ready to take the next step? Contact us today!
Stay current on the recent trends, industry news, and company updates on the Mobile Marketing Blog. Check out last month's post, wherein we sat down with Sam Locher of AJ Rose to talk about the state of the industry and the effect digital marketing has had on their business.