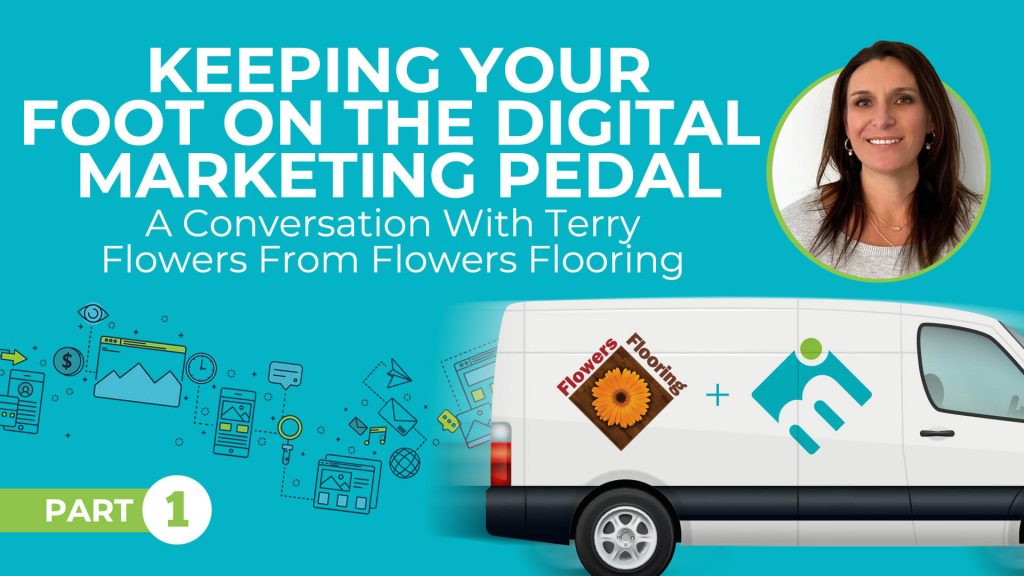 Keeping Your Foot On The Digital Marketing Pedal: A Conversation With Flowers Flooring, Part 1
Founded in 2011, Flowers Flooring is one of the top flooring retailers in North Carolina. What began as the dream of owner and manager Jeremy Flowers 12 years ago has grown into the preeminent flooring retailer in the Lake Norman and Winston-Salem, NC area. Thanks to its exceptional office staff, skilled installation crews, and fantastic product offerings, Flowers Flooring is a true American success story that has flourished in the past decade-plus thanks to hard work and perseverance.
We sat down with Terry Flowers, Director of Marketing for Flowers Flooring, to discuss digital marketing success, obtaining leads, and why customer service is so important.
The following interview has been edited for clarity and length:
Mobile Marketing (MM) – With the frequent economic changes of late, how have you adapted your approach to get ahead of where you believe the economy is going? And what role does digital marketing play?
Flowers – With most flooring companies, marketing is the first thing that is cut during tough times. We've increased our marketing efforts, including pay-per-click and geo-fencing. Instead of pulling back on our digital marketing investment, we keep our foot on the pedal. Digital marketing is key, which is why we love SFN Velocity. Our digital marketing and SEO have improved tremendously. We're seeing our clicks increase, our click-through rates increase, and our projects are looking good.
MM – From a digital marketing perspective, what has been successful for you in terms of bringing in customers and obtaining leads?
Flowers – Our paid search has been successful, and our SEO has helped with organic searches. Those are the two big areas of digital marketing we've focused on over time. We think investing in digital marketing early on has helped us down the road. We started in 2013, which has led to a lot of success for us. Many flooring stores in our area are smaller retailers not investing in things like paid search or geofencing, which differentiates Flowers Flooring from others. Our Google reviews have hundreds more than our leading competitors.
MM – Bringing customers is incredibly difficult, but keeping existing ones can be just as challenging. How do you continue to keep your existing customers happy as your business grows?
Flowers – We have a large number of returning customers that make up a large portion of our business. When we are finished with a job, we send our customers a hand-written thank you note. We provide that personal touch from the beginning of the project through to the end. If a molding comes off, we come back and tack that back on for free. If there's an issue two years down the road, we send our inspector out for free. We are not a one-and-done type of flooring store. Our customers know they can call on us to come back and address any situations that may arise. Flooring gets worn; it's the most commonly used thing in your home. So, we have no issues going back to a home to resolve an issue. That attention to customer service brings our customers back to us.
Be on the lookout for part two of our conversation with Terry in the coming weeks.
Mobile Marketing + You
Mobile Marketing is here to help you create a digital strategy for your flooring or DIY company. Whether your company is looking for help with custom blogs, SEO, website design, social media, or building an entire digital media strategy, our trained industry experts can help. As the preferred digital partner of the NFA, we're here to help you elevate your brand with an omnichannel digital marketing strategy that brings in new customers while consistently engaging existing ones. Ready to take the next step? Contact us today!
SFN Velocity, powered by Mobile Marketing, is an all-in-one, digital marketing solution that allows you to focus on your business, while in-market consumers are automatically driven to your store. By strategically integrating your website, social, advertising, and more, Velocity gives your flooring store an easy and powerful advantage in your LOCAL market.
Stay current on the recent trends, industry news, and company updates on the Mobile Marketing Blog. Check out last month's conversation with Mobile Marketing client A.J. Rose here.