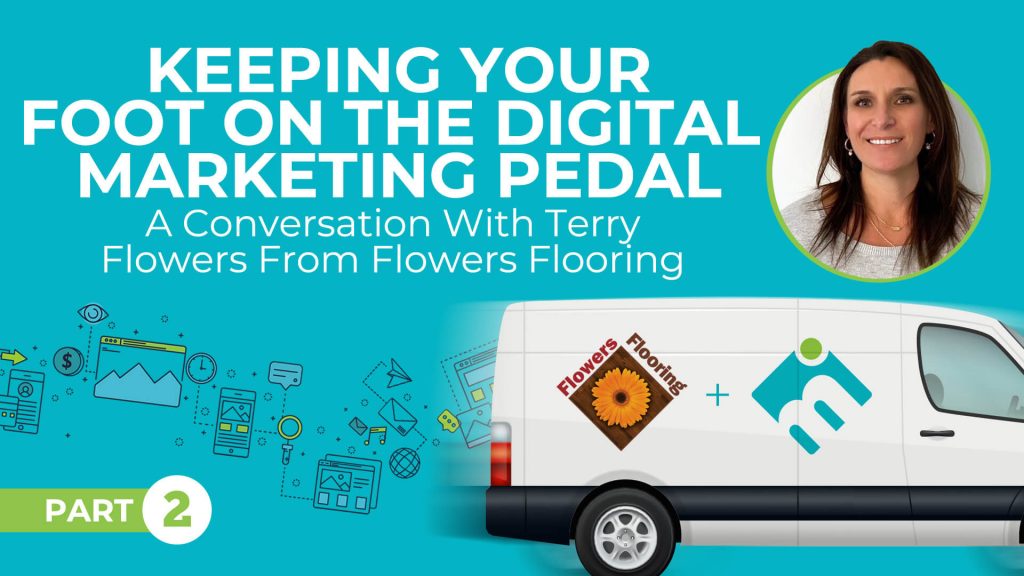 Keeping Your Foot On The Digital Marketing Pedal: A Conversation With Flowers Flooring, Part 2
Founded in 2011, Flowers Flooring is one of the top flooring retailers in North Carolina. What began as the dream of owner and manager Jeremy Flowers 12 years ago has grown into the preeminent flooring retailer in the Lake Norman and Winston-Salem, NC area. Thanks to its exceptional office staff, skilled installation crews, and fantastic product offerings, Flowers Flooring is a true American success story that has flourished in the past decade-plus thanks to hard work and perseverance.
We sat down with Terry Flowers, Director of Marketing for Flowers Flooring, to discuss digital marketing success, obtaining leads, and why customer service is so important.
You can read the first part of our interview here.
The following interview has been edited for clarity and length:
Mobile Marketing (MM) – To what extent do social media and email marketing impact your business?
Flowers – Social media has a large impact on our business. We have a lot of followers on both Facebook and Instagram. If you are not utilizing those two channels today, you're missing out on a big piece of the pie. We are beginning to utilize YouTube, as well. We're doing some commercials showcasing different flooring lines each week. Blogging has also been extremely successful for us for SEO purposes. Google likes to see new content on your website, so we blog weekly to help with SEO and organic searches.
We use a great program for our reviews and email marketing. We send emails out to all our existing customers twice a month. We have emails specifically for our customers who have had quotes and are ready to schedule their installation. We can send out information to their email or their phones. We can target messages to those in the market for new flooring or are ready to schedule an estimate. So, email marketing is hugely beneficial for us to keep in close contact with our customers.
MM – How important is it for a flooring retailer to have a strong website? What aspects of your website have you found useful in terms of engaging customers and bringing in business?
Flowers – Having a strong website is extremely important. We get a lot of leads from scheduling estimates through our website. We also have a lot of content on our website, so it's a good flooring resource. If someone is looking for information on hardwood, such as how to sand and finish it, chances are they're going to land on our website when they search for that information. We see a lot of people scheduling an estimate through our site when it's not a project they can tackle themselves. We work very hard on developing and maintaining a robust website.
One tactic that works well for us is that we run monthly ads. We have a slider on the top of the front page of our website that helps engage customers. Then they can shop, learn how to install flooring, learn how we install flooring, schedule an estimate, and look through our vast catalog of products. People like to see the colors and samples on the website. They already know what flooring they want when they come into our showroom many times.
MM – Can you talk about some of your successes thus far in 2022? What do you hope to build on as the year continues?
Flowers – We've added a lot of content to our website, which has brought us success. That is such an important tool for us, keeping our catalogs up to date and keeping our content fresh. We plan to continue that. We're also looking to move into new communication channels, such as YouTube. We have seen our sales increase, and we hope to continue that.
We also started offering financing and have seen a huge sales increase. People love that they can buy now and pay later because they don't want to spend several thousand up front for flooring, but they can break it into 24 monthly payments with no interest. It makes new flooring more doable for a lot more people.
MM – Your customers rate you highly (4.5/5 per review widget on the website); what sets you apart from your competitors?
Flowers – Our customer service is definitely what sets us apart, in every aspect, from the time they schedule their estimate until we do the final walkthrough with our customers. Our customer service is impeccable. When you read our reviews, it's the customer service you see over and over again, and that's something you love to see because it means we're getting it right.
Mobile Marketing + You
Mobile Marketing is here to help you create a digital strategy for your flooring or DIY company. Whether your company is looking for help with custom blogs, SEO, website design, social media, or building an entire digital media strategy, our trained industry experts can help. As the preferred digital partner of the NFA, we're here to help you elevate your brand with an omnichannel digital marketing strategy that brings in new customers while consistently engaging existing ones. Ready to take the next step? Contact us today!
SFN Velocity, powered by Mobile Marketing, is an all-in-one, digital marketing solution that allows you to focus on your business, while in-market consumers are automatically driven to your store. By strategically integrating your website, social, advertising, and more, Velocity gives your flooring store an easy and powerful advantage in your LOCAL market.
Stay current on the recent trends, industry news, and company updates on the Mobile Marketing Blog. Check out last month's conversation with Mobile Marketing client A.J. Rose here.