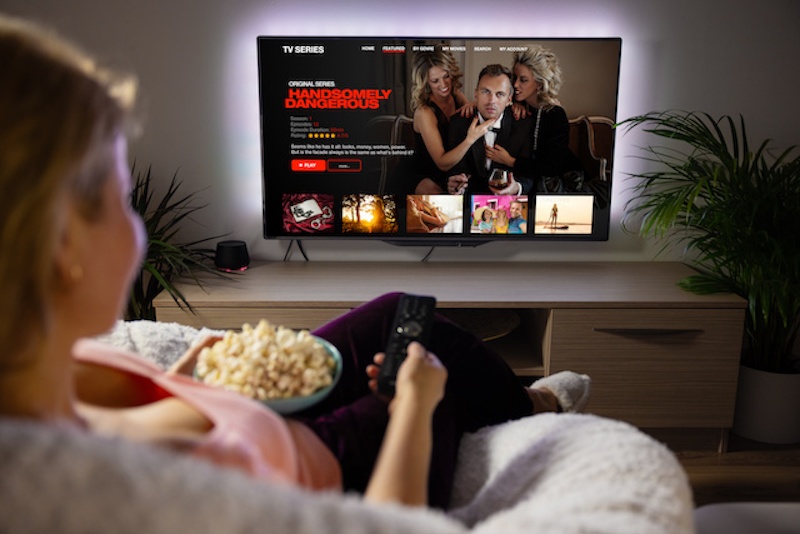 What are Streaming Ads & Over-The-Top (OTT) Advertising, And How Can It Help My Business?
Over the past few decades, there's been a seismic shift in how people watch television and consume their favorite shows. Long gone are the days of "must-see tv" Thursday nights as viewers have shifted to streaming services and watching shows on demand.
On May 14th, 1998, 76.3 million people tuned in to watch the finale of the NBC juggernaut, Seinfeld (Business Insider). While a letdown for many viewers, for television executives, the show's massive ratings were the furthest thing from a disappointment. Fast forward 24 years, and the landscape is, let's say, a bit different. The highest-rated scripted series of 2022, thus far, is another NBC series finale, This is Us, which boasted 6.4 million viewers per Variety. This is roughly 72 million less than Seinfeld a few decades before. Is this surprising? For most people, probably not, as we all know the cause: streaming services.
The percentage of Americans who watch television via cable or satellite has plunged from 76% in 2015 to 56% in 2021, according to Pew Research. Another Pew survey found that 71% of adults who cut the cord did so because they could find the content they wanted to watch online. Streaming services have accounted for a massive shift in broadcast television viewership, completely upending the entertainment industry and, in many ways, revolutionizing how consumers watch television and how businesses advertise to those consumers.
When Netflix first introduced its streaming service in 2007, it was the first step in what would become a colossal decline in cable television viewership. In the decade-plus that has passed since, many other, equally-stocked streaming services have popped up, slowly siphoning viewership from places like ABC, Fox, CBS, and NBC. With Apple TV, Hulu, Amazon Prime, HBO Max, Peacock, and many other services offering their own programs outside of the constraints of network television, it's no wonder viewers have cut the cord in droves in favor of these more robust, in terms of content, and affordable streaming services.
So why is this important, and how does it relate to your business? Well, with low viewership, traditional television commercials and advertisements are no longer a viable way to bring in business. Streaming advertisements, also known as over-the-top (OTT) advertising, have replaced cable television ads. To get the attention of your prospective customers, you must go where the eyes are. And that isn't 60 Minutes or Home Improvement or any other standard cable fare. It's Stranger Things, Squid Game, and Obi-Wan Kenobi. This blog post will highlight streaming ads and why they are integral to the future success of your business.
So what are streaming ads?
Streaming ads, or OTT advertising, which stands for over-the-top, allow businesses to bypass (go over the top of) traditional cable services and the constraints inherent in that type of advertising. With streaming ads, companies can deliver content to those customers who no longer watch basic cable.
Per Amazon, 74% of ages 18-34, 64% of ages 35-54, and 56% of ages 55+ categorize themselves as cord cutters, meaning they do not have an active cable subscription and stream their entertainment. These are staggering numbers! By advertising via traditional cable, businesses are missing out on a significant portion of the marketplace and limiting the number of eyes each advertisement will receive. Streaming ads place ads in locations where customers are most likely to see them, their favorite streaming services. That means your ads will be available on places like Netflix, Amazon Prime, Hulu, Apple TV Plus, Disney+, and so forth. Even better, anyone with a smart television, like Apple TV, Roku, or Samsung, or who uses gaming devices such as Xbox or Playstation will have access to and see these strategically placed ads. With streaming ads, you can reach your target audiences through more precise and effective methods of mass distribution.
How can streaming ads help my company?
Streaming ads can help your company in a wide variety of ways, including:
•Streaming advertisements are non-skippable and immersive, allowing advertisers to engage with a unique audience committed to the content they consume. For example, a flooring retailer could place their ads on a streamer that features home renovation programming.
•Thorough metrics and reporting allow you to analyze your data in real-time. That data can be used strategically to decide where to place your ads in the future.
•By reaching a unique group of video consumers that advertisers can't reach with traditional TV commercials, thus putting you ahead of the competition.
•Serving video ads pre-roll, mid-roll, and post-roll within streamed content on the big screen and other connected devices like mobile phones, computers, and tablets.
•You won't be limited by the constraints of cable television, meaning that ads can be accessed whenever viewers are watching streaming services, day or night, weekdays or weekends; your content will be available to them.
Streaming ads + Mobile Marketing = SUCCESS
If you're interested in Streaming ads, the team at Mobile Marketing can help!
We'll help you:
Identify your budget
Choose a campaign
Select/confirm targeted demographic profiles
Select apps/streamings services
We're here to help with streaming ads and whatever digital marketing needs you might have! Whether your company is looking for help with custom blogs, SEO, website design, social media, or building an entire digital media strategy, our trained industry experts can help. As the preferred digital partner of the NFA, we're here to help you elevate your brand with an omnichannel digital marketing strategy that brings in new customers while consistently engaging existing ones. Ready to take the next step? Contact us today!
Stay current on the recent trends, industry news, and company updates on the Mobile Marketing Blog. Check out last month's post on Keeping Your Foot On The Digital Marketing Pedal: A Conversation With Flowers Flooring.