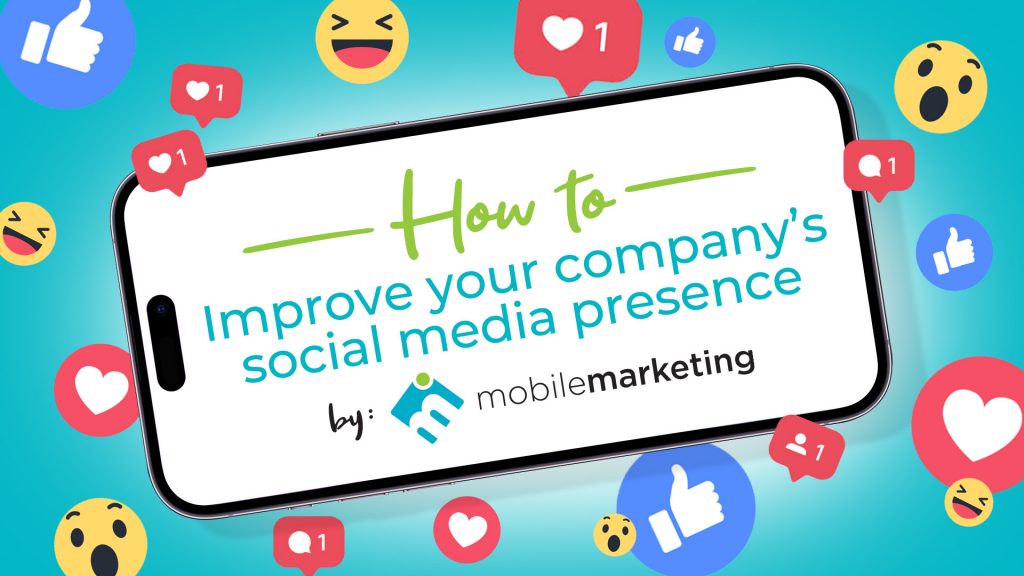 How To Improve Your Company's Social Media Presence
Social media is, for better or worse, a daily constant in our lives. More than just a place to post pictures of your food or connect with old classmates, social media has become a place where people read product reviews, look for romantic partners, buy used products, and even get their news. Long gone are the days of Tom from MySpace staring back at you from your top friend list or someone "poking" you on Facebook. Nowadays, people are constantly looking at, posting on, and checking in with their favorite social media sites from their smartphones, laptops, and even smartwatches. Social media truly is everywhere, all of the time.
As of August 2022, the active monthly users* for the top 5 social media sites were as follows:
Facebook, 2.9 billion monthly active users
Instagram, 2 billion monthly active users
TikTok, 1 billion monthly active users
Twitter, 436 million monthly active users
LinkedIn, 250 million monthly active users
*According to Buffer.com
If you add up all of those monthly active users, the number is just shy of 7 billion, roughly the same number of people currently living on planet earth. So why is all of this important? Well, for a business, flooring or non, you must be where your prospective customers are and let there be no doubt, your customers are all on social media.
So whether your goals are advertising, maintaining a general online presence, or soliciting reviews, it is absolutely essential that your business has a healthy social media presence.
However, establishing a strong social media presence can be challenging for many. That's where we can help. By allocating the proper time, energy, and resources to social media presence, you'll be amazed at how quickly you can grow your audience and build your brand. This blog post will highlight the top ways that you can work to improve your social media presence:
Set Goals
The first step to improving your social media presence should always involve goal setting. Without this step, it becomes impossible to measure success later on once you've implemented new practices. During your early days of social media goal setting, consider what it is you're hoping to get out of building your presence. Maybe you want more followers? Perhaps better engagement with the followers you have? Is growing one platform more important to your business than the other ones? Are you hoping to obtain positive reviews through your social media? By asking and answering these questions early on in the process, it will enable you to assess progress later on. The more data-driven your goals are at the onset of your planning, the better.
Post Consistently And Be Engaging
When it comes to social media, consistency is the name of the game. Sure, anyone can come up with a clever or engaging post every once in and while. The key to building your social media presence is regularly delivering interesting and value-adding content to your audience. This is what separates the little fish from the social media sharks. Whether you opt for a social media calendar wherein you outline all of your posts for the month or use special automation software to schedule posts ahead of time, ensure you consistently deliver quality content to potential customers.
Be Aware Of Current Trends/Consider Multimedia
One surefire to gain attention and followers is to be aware of and participate in current social media trends. While these trends change daily, showing that you're knowledgeable and willing to participate in them will help expand your audience and build your brand. Embracing something like TikTok before other competitors do is an example of being aware of the current social media trends and using them to your advantage. Other possible examples could include posting popular memes, being aware of viral topics and posting about them (so long as it's appropriate), and reacting/responding to humorous items in the news. Showing that you're willing to have fun on social media will enable you to grow your audience while displaying the overall personality of your business.
Promote Your Social Media Accounts
This one's simple! People cannot follow and interact with your social media accounts if they don't know they exist. Promoting your channels on your website, in your store, and on any marketing collateral you hand out can help guarantee that people are aware of your social media presence.
Adapt Your Content For Different Platforms
Using the same content across all platforms is a mistake many businesses and companies make. Why is this a problem? Well, with each site comes its own audience, each looking for a different thing. People browsing LinkedIn have entirely different expectations for what they're going to find versus someone cruising Instagram. While it might seem like more work, adapting your social media posts to each platform can be used to your advantage. While your competitors might be lazily posting some banal things across all social media sites, you can tailor your approach to each one, helping to create a more memorable experience for your audience.
Respond & Interact
If consistent posting is the key to maintaining a solid social media presence, then ensuring that your responding and interacting with your audience is a close second. With social media, you have the unique ability to reach and interact with an audience that is entirely new to you and your business. Thus having an open line of communication is of great importance. For example, when someone messages you on social media, respond. When someone gives you a shout-out or says something positive about your business, leave them a comment thanking them for their kind words. In general, it's a good practice to acknowledge all mentions, posts, tags, and so on from your audience. This communication will not always be positive, as you probably know. But even negative posts or feedback from customers on social media can provide you with an opportunity to improve your practices and procedures and potentially prevent your business from losing a customer.
Track Metrics
By keeping an eye on your social media metrics and measuring them against your goals, you can better understand what posts and practices are working and what ones aren't. The most important metrics depend on the social media site, but basic things like followers, likes, comments, shares, and reach are excellent places to start. As you learn about social media, you can get more into the weeds with your data. As previously mentioned, it's essential to keep an eye on all data and adapt what you're doing based on the metrics you're seeing.
Mobile Marketing Knows Social Media
At Mobile Marketing, we can help you grow your social media presence. Handling everything from creating custom social media posts to maintaining a calendar for each social media platform, we've helped hundreds of clients up their social media game while building a meaningful audience and customer base. So Whether your company is looking for help with social media, custom blogs, SEO, website design, or creating an entire digital media strategy, our trained industry experts can help. As the preferred digital partner of the NFA, we're here to help you elevate your brand with an omnichannel digital marketing strategy that brings in new customers while consistently engaging existing ones. Ready to take the next step? Contact us today!
Stay current on the recent trends, industry news, and company updates on the Mobile Marketing Blog. Check out last month's post on streaming ads and how they can help your business.