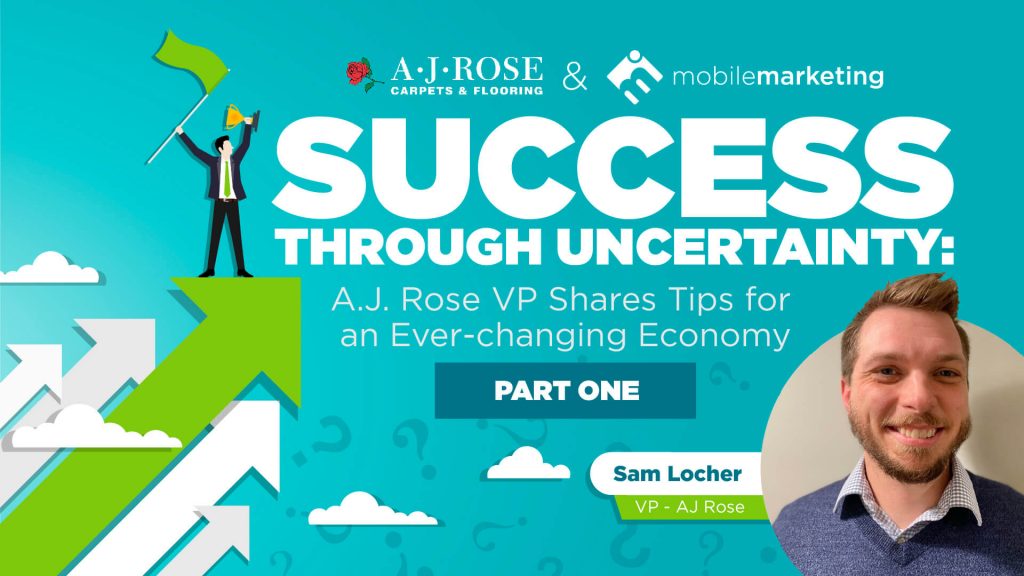 Success Through Uncertainty: A.J. Rose VP Shares Tips for an Ever-changing Economy, Part 1
Family-owned since 1977, A.J. Rose Carpets & Flooring is a leading flooring retailer in the New England area. With three locations and a wide range of fantastic flooring products and services, they've continued to flourish with each passing year, thanks to their strong values and superior customer service. With a reputation as a first-class, honest business, A.J. Rose, a proud member of the NFA (National Flooring Alliance) and Shaw SFN, has found success in the flooring industry for more than 40 years.
We sat down with Sam Locher, Vice President of Business Development at A.J. Rose, to discuss industry trends, digital marketing, and what makes their business special.
The following interview has been edited for clarity and length:
Mobile Marketing (MM) – What's the outlook for the flooring industry for the remainder of 2022 and 2023?
Locher – We keep up with market research and economic news and listen to the experts from the flooring industry, specifically. But really, who knows anything at the end of the day? No one saw 2020 coming or 2021's bounce back after COVID. Right now, everything still looks steady. I don't think we'll see a rise from 2022 to 2023 like we saw between 2020 to 2021. We are hopeful people will continue to do home improvement projects within today's inflation, and that interest rates won't increase too much.
If sales do level off, we're prepared for it. We've been pleasantly surprised since the beginning of this year. We had said even if our sales are flat, we would be good with that. We always hope for the best and prepare for the worst.
MM – With the frequent economic changes of late, how have you adapted your approach to get ahead of where you believe the economy is going? And what role does digital marketing play?
Locher – We've tried a few different methods to reach our target demographic, and more and more, we're finding digital marketing is our bread and butter. Google is the first place most people go when they want to purchase something. It used to be just the younger demographic that went online, but now even with the older ones, it's where people begin. So, it's important to maintain a good digital presence across all platforms.
I was talking to a customer the other day, and when I told her my name was Sam, she said she had read all our reviews on our site, and she liked how I had responded to them. We try to respond to every review. People are seeing that, and it's positive reinforcement for our brand. It's encouraging to see. Another new hire said he wanted to work here because when he was doing research on us, he liked how we presented ourselves online and how we responded to reviews. Reviews seem like a minor thing, and you wonder if people ever look at them, but for some people, it's a deciding factor.
MM – From a digital marketing perspective, what has been successful for you in terms of bringing in customers and obtaining leads?
Locher – We're putting a lot of effort and money into Google search right now. We're making sure we are using the right keywords, and we're getting the right customers. You [Mobile Marketing] and your team do a lot of that, but we review it. We get feedback from our customers to see what's relevant to them and what's not. We determine if we have a good ROI, too.
There are so many digital options out there that we have to do tests to see what's working and what's not, so we'll know where to best invest more money. We also get a lot of engagement on our social media channels because we use personalized branding instead of cookie-cutter content.
Be on the lookout for part two of our conversation with Sam in the coming weeks.
Mobile Marketing + You
If you're a flooring retailer, Mobile Marketing is here to help you create a digital strategy for your flooring or DIY company. Whether your company is looking for help with custom blogs, SEO, website design, social media, or building an entire digital media strategy, our trained industry experts can help. As the preferred digital partner of the NFA, we're here to help you elevate your brand with an omnichannel digital marketing strategy that brings in new customers while consistently engaging existing ones. Ready to take the next step? Contact us today!
Stay current on the recent trends, industry news, and company updates on the Mobile Marketing Blog. Check out last month's post on The Importance of Having a Digital Marketing Strategy for Your Business.