UNPRECEDENTED TIMES CALL FOR UNPRECEDENTED "MEASURES"
Royersford, PA, April 13, 2020 – As the current pandemic begins to define a "new normal" for all industries, Mobile Marketing is taking the lead on developing innovative tools for flooring retailers that help them take advantage of current and future digital opportunities. Included in the offering are online, mobile, and augmented reality measuring capabilities, launched in partnership with Measure Square.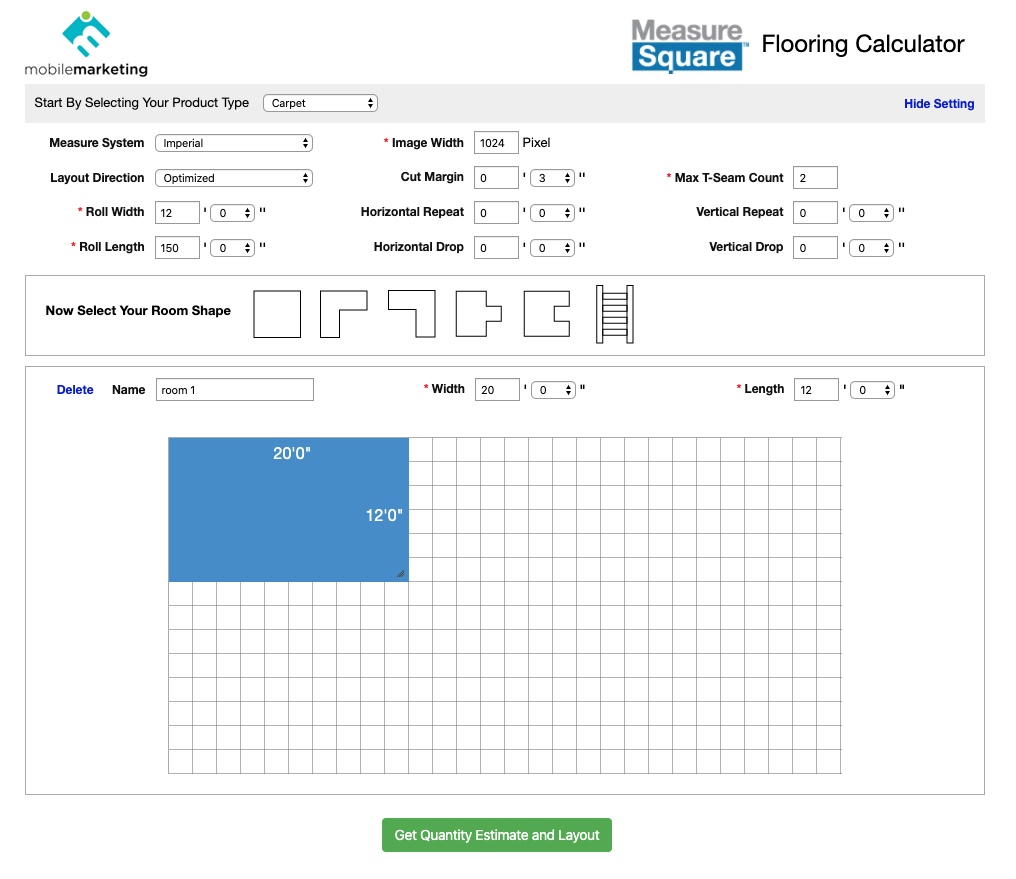 "Measure Square is an industry leader in estimating software for retail and commercial flooring contractors," says Carole Cross, president and CEO of Mobile Marketing. "With the increasing demand for eCommerce capabilities, we saw the need to integrate a measuring tool to facilitate remote order estimates. Working with Measure Square, we are now able to provide flooring retailers with a simplified digital measuring tool that is integrated into their website for online and mobile use."
The online measuring tool allows consumers to easily calculate their flooring quantity needs for different types of flooring categories, including carpet and tile. Once calculated, the results are displayed on the website and shared with the retailer. Depending on the retailer's preference, they can follow-up with a quote or enable the consumer to complete their purchase online through an eCommerce platform.
A Virtual Room Measuring app is also available for download. To use, a consumer positions his or her smartphone camera toward the floor and walks around the area they want to replace, while following with the pointer. Once the room is shaped, a complete floorplan can be sent back to the flooring retailer.
"Mobile Marketing is an exceptional digital company that is highly regarded among NFA members, which represent some of the largest flooring showrooms in the industry," says Steve Wang, president of Measure Square. "Our common client list brought us together and led to a partnership that brings our measurement software to life in a whole new way. We have already implemented it on many NFA member sites and are excited to extend it to other retailers, especially during this challenging time when it is difficult to visit consumers' homes."
Mobile Marketing and Measure Square have also partnered in creating digital calculators for retailers who have expanded into paint and window treatments. The online paint calculator determines the amount of paint needed and provides an estimated cost. The new blind measurement tool helps consumers correctly measure their windows and consult with their window treatment specialist.
"A retailer's online presence has never been more important than it is right now," adds Cross. "We are continually innovating to facilitate more shop at home capabilities so retailers can continue to grow their business. Currently, we are working on combining our measurement tool and room visualizer to enhance the online shopping experience and help retailers close sales."
Retailers interested in making the most of their web, mobile, and social platforms can contact Mobile Marketing at 484-944-1422, e-mail info@mobile-marketing.agency or visit https://mobile-marketing.agency.
# # #
Mobile Marketing is a results-focused agency that specializes in connected digital marketing experiences. With clients that include some of the largest, most profitable retailers in the flooring industry, Mobile Marketing has proven itself as a cutting-edge digital leader with holistic methodologies that deliver the best online solutions for today's businesses. To learn more, visit mobile-marketing.agency or call 484-944-1422.
About Measure Square
Measure Square Corp was founded in 2001 in Pasadena, California, with a mission to bring to market the best software for measure estimating. Over the years, generations of their products have shaped the industry, with efficiency, accuracy, and professional results. Since inception, the customer base has grown to over 3,600. To learn more, visit measuresquare.com or call 626-683-9188.