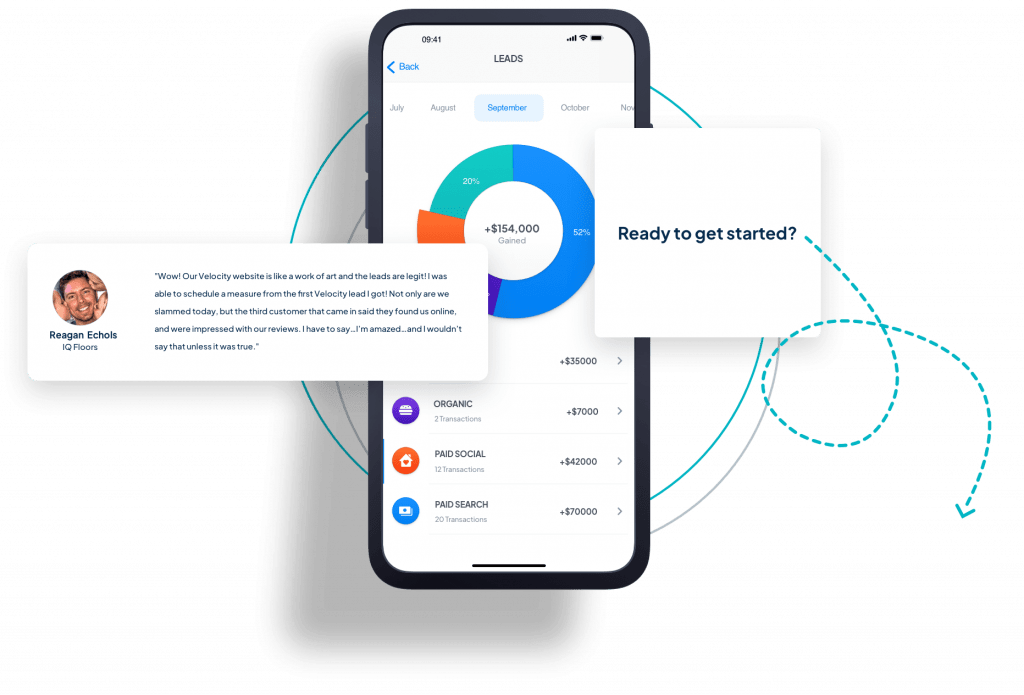 Mobile Marketing Integration with ERPs Provides Retailers Return on Ad Spend
Mobile Marketing is a future-focused marketing agency with an eye toward the cutting edge. We're here to help create memorable digital experiences that bring your business to the next level. To date, we've helped hundreds of flooring retailers own the online floor shopping experience. And with our most recent enhancements, flooring retailers can now see a more precise return on their digital marketing investment.
This newest advancement brought to you by our team at Mobile Marketing, offering the ability to show ROAS, return on advertising spend, was made possible by our full integration with the flooring software companies and ERPs RFMS and QFloors (launching this spring).

"For the first time, we can show retailers their exact cost per closed sale," said Carole Cross, founder, and CEO of Mobile Marketing. "We are really changing digital marketing. Looking at cost per lead has been standard in our industry, but we've taken that to the next level."
This RFMS & QFloors integration will allow retailers to see which marketing channel a customer utilized while tracking their purchase journey. The return on advertising spend and all related data are available in our unique Insight Portal so retailers can easily access the information. This accessibility of data allows retailers to make more educated decisions concerning their marketing efforts and more.
"The customer's data travels with them through the entire purchasing process so retailers can access it," said David Geipel, vice president of Sales & Marketing for Mobile Marketing. "We analyze how much was spent on advertising, where the ads were placed, how many leads the advertising produced, how many of those leads became sales, how much each sale was, and then determine the cost per closed sale. You can now easily see your profit from each digital marketing campaign. This is extremely valuable information. It allows you to better identify which channels and campaigns are working well so you can focus your efforts there."
Mobile Marketing's integration with QFloors also enhances customers' flooring experience by better connecting what they experience online with the showroom experience. Product information, including pricing, can easily be transferred between retailers' websites and these business management software services. Since most customers shop online before visiting the showroom, this gives them a better idea of in-stock inventory and pricing upfront. All of this is being rolled out through select retailers this spring.
"Customers are already using some of the best tools in the industry, and we want to integrate and be flexible so our customers can still utilize the technologies they have spent years investing in and developing," Cross said. "During the pandemic, everyone realized consumers really want to know that if you've got something displayed online, you have it in inventory. We are connecting the online experience to the in-store experience. That's why we partner with industry leaders, and now's a great time to take advantage of all we offer."
Mobile Marketing has consistently delivered fantastic customer experiences and driving results for the past eight years. We offer everything from entire website builds to content strategy, customer review management, and more! We look forward to continuing to enhance the digital experience for our retailers. With even more advancements and innovations expected in 2023, Will your company be next?
Interested in learning more about who we are and what we stand for? We offer free digital assessments for prospective customers to help indicate future areas of improvement. We love what we do and want to help your company be the best version of itself. Let's get on the phone and talk about what the team at Mobile Marketing can do to drive business and build your brand.
Stay current on the recent trends, industry news, and company updates on the Mobile Marketing Blog. Check out last month's post on 6 Ways To Improve Your SEO And Dominate The Competition.