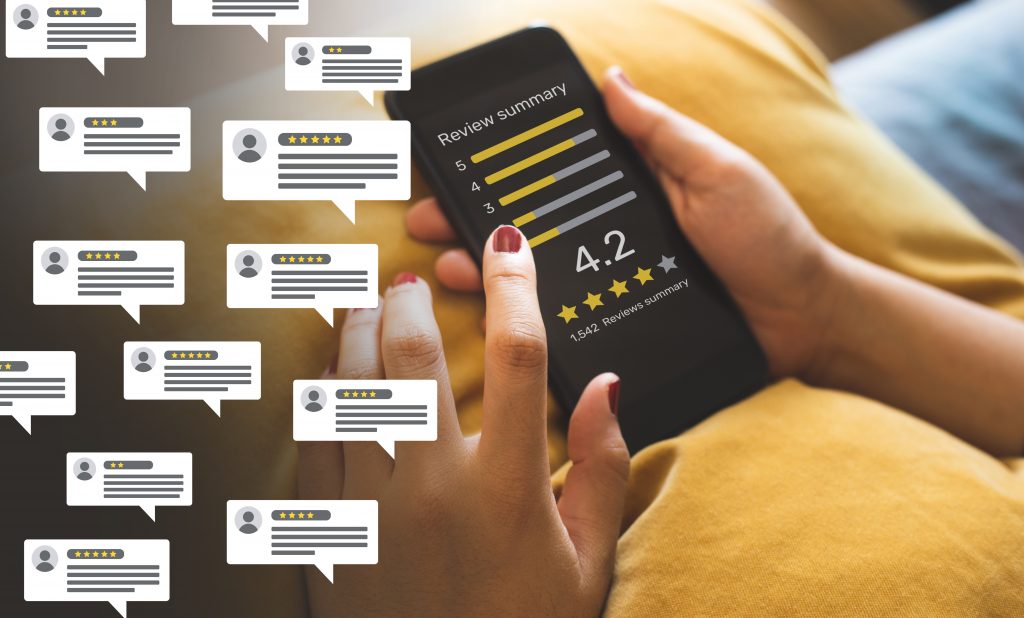 4 Reasons Google Reviews Are Important For Your Business
Whether you're going to see a movie, considering taking a trip, or buying new flooring, reviews matter! In fact, 98% of consumers feel that reviews are an essential resource when assessing potential purchases, according to Power Reviews. While the percentage is staggering, should we be surprised? As we spend more and more time online, customer reviews have become an integral part of the shopping experience. 
These days, we, as consumers, have almost unlimited options from which we can shop. That's why we rely on reviews to help us narrow down these seemingly infinite numbers. From something as fundamental as bath soap to the hotel you want to stay in on your trip to Orlando, there is anxiety in having too many options. Sometimes known as analysis paralysis, we use these reviews and customer feedback to help us decide how we spend our money. And when we search for reviews, where do we go first? Google. 
Consumers read reviews before eating at a restaurant, browsing socks, or shopping for flooring. Looking at Google Reviews when shopping is as ingrained in our daily existence as baseball and apple pie were years ago. For these reasons, obtaining and managing Google reviews is vital for any business. This blog post will discuss the top 4 reasons Google reviews matter for your business.
Google reviews help you to understand your customers better
Google reviews enable businesses to understand better their customers' likes, dislikes, and general thought processes when shopping with you. With each Google review comes the ability to learn more about your consumer base and what is or is not working concerning your business. 
Google reviews can serve as an opportunity to improve your business and help you make more informed decisions in the future. For example: let's say you were considering making cosmetic changes to the inside of your store. If you continually receive Google reviews highlighting how outdated or lackluster the inside of your store is, then it might be time to prioritize those renovations. On the opposite end of the spectrum, positive Google reviews enable you to double down on that offering or product to continue meeting your customer's future needs. 
Think of Google reviews as a free focus group on your customers, products, and business. Reviews cost nothing to obtain and provide helpful market research on key aspects of your business. 
Google reviews help you to make decisions that can improve your business
When a customer leaves a positive or negative Google review, it can help give you a snapshot of what is or isn't working concerning your business. Google reviews result from someone having an exceptional experience they want to share so that others can have a similarly exceptional experience. Or the inverse, where they have a challenging experience they want to share so that others do not have a similarly challenging experience. While the in-between experiences and reviews exist, seeing the far-ranging ends of the review spectrum is more common. And with this various spectrum of reviews, you, as business owners, can make the most change.  
Positive Google reviews can reaffirm your belief in your business and enable you to promote more resources to what the customer highlighted. Negative or middling Google reviews can help you change course on an idea or methodology to provide a better experience for customers in the future. 
Google reviews can help with SEO
Google reviews can help your business rank higher for local searches. When Google reviews mention prominent search keywords or city names, it can help launch you to the top of Google My Business search results. While each search engine uses different means of indexing and ranking content, having fresh and constantly updated content via customer reviews will all but ensure that your website ranks higher on the SERP and help with SEO overall. 
A higher ranking can help more shoppers or potential shoppers to see your website when completing online searches. Naturally, you want the Google reviews to be positive so that when you pop up on the SERP, customers feel compelled to visit your site or your business. 
Google reviews give your business credibility
Fundamentally speaking, are you more likely to buy a product with 200 pretty good Google reviews or 10 exemplary Google reviews? Odds are you will go with the product with the higher number of reviews, but why is this? That's because the number of reviews a business/product has helps lend credibility to the business or product.
Businesses with a higher number of good Google reviews will almost always trump businesses with a few extremely positive reviews. That's why soliciting and managing customer reviews is so important. Providing your customers with excellent products and services is essential; positive Google reviews will follow if you do so over a long enough period. Still, it's the business that provides excellent service and is the best at capturing positive customer feedback via Google reviews that will dominate the competition. 
Google Reviews + Your Business
Obtaining Google reviews and maintaining customer review systems can be a full-time job! And one that is certainly worth your attention. With customers becoming increasingly reliant on Google reviews before deciding how to spend their hard-earned dollars, managing your reviews is crucial.
Mobile Marketing has consistently delivered fantastic customer experiences and driving results for the past eight years. We offer everything from review management to complete website builds, content strategy, and more! We're a future-focused marketing agency with an eye toward the cutting edge, and we're here to help create memorable digital experiences that bring your business to the next level. Will your company be next?
Interested in learning more about who we are and what we stand for? We offer free digital assessments for prospective customers to help indicate future areas of improvement. We love what we do and want to help your company be the best version of itself. Let's get on the phone and talk about what the team at Mobile Marketing can do to drive business and build your brand. 
Stay current on the recent trends, industry news, and company updates on the Mobile Marketing Blog. Check out last month's post on Mobile Marketing Integration with ERPs Provides Retailers Return on Ad Spend.