Mobile Marketing, LLC. Partners With The World Floor Covering Association (WFCA)
Rugs.shop partners with WFCA
ROYERSFORD, Pa., Jan. 11, 2018 /- Mobile Marketing, LLC., a full service strategic mobile and digital marketing agency announced today a partnership with The World Floor Covering Association (WFCA) to provide retailers with a unique ecommerce platform to sell area rugs direct to consumers.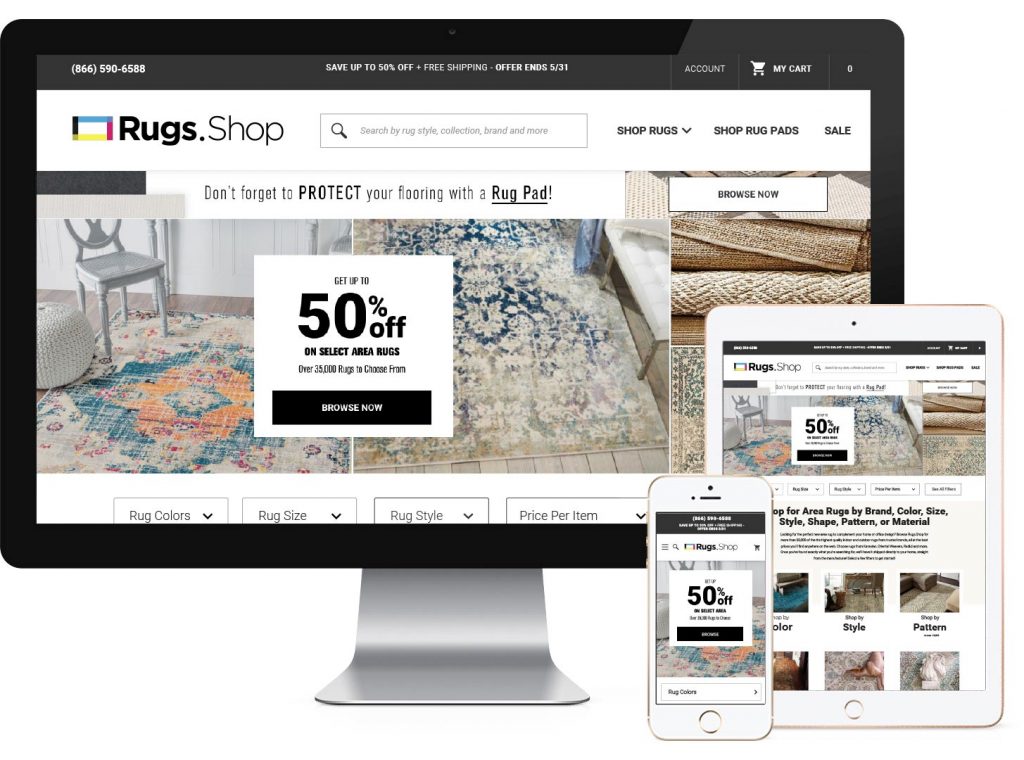 The Rug Shop is a full ecommerce solution, a retailer branded online rug shop offering more than 35,000 brand name area rugs to consumers. Powered by Mobile Marketing's scalable flooring ecommerce platform, each online store features robust catalog offerings and powerful online ecommerce marketing tools. The mobile first platform is fully responsive, providing consumers with the ability to view, select and order their area rugs from their mobile phones, tablets and desktop computers. The service includes catalog management, customer service, returns, orders, and credit card processing. Retailers adopting the Rug Shop platform receive a live branded website within two weeks.
"We're excited to partner with the WFCA to offer the Rug Shop to their members. The Rug Shop will enable these retailers to enter into online sales with minimal effort, grow new revenue channels with zero inventory and compete with online retailers like Wayfair," said Carole Cross, President & CEO, Mobile Marketing, LLC. "Many flooring retailers do not sell area rugs because of the cost of inventory, space restrictions on the showroom floor, catalog maintenance issues and technology challenges; we've created an ecommerce solution that solves these problems and will increase revenue while meeting the needs of these retailers. In addition to the Rug Shop, we are happy to be working with the WFCA and 3rd party software providers on furthering the use and adoption of the B2B ecommerce standards within our broader flooring ecommerce service offerings."
"We're extremely excited to announce our partnership with Mobile Marketing, LLC. to provide an online ecommerce rug solution for our members," said Freida Staten, Vice President of Marketing and Communications, World Floor Covering Association. "This partnership will enable our members another revenue source with minimal effort and costs."
Eligible retailers will be able to sign up for The Rug Shop with Mobile Marketing representatives located at the WFCA booth 2057 at The International Surface Event in Las Vegas, January 30-February 1, 2018. Retailers can also inquire online at https://www.rugs.shop/info/.
About Mobile Marketing, LLC

Mobile Marketing is a full service mobile and digital marketing agency located in Royersford, PA. The agency specializes in providing mobile and digital marketing and advertising, custom web design and ecommerce solutions, online lead generation, and social media marketing support for mid-level to Fortune 500 clients across the country. For additional information visit our website at Mobile Marketing, LLC.
ABOUT WFCA

The World Floor Covering Association (WFCA) the official sponsor of the annual Surfaces tradeshow, is the floor covering industry's largest advocacy organization, representing floor covering retailers, contractors and allied service providers throughout North America.
The WFCA is a recognized leader in marketing research and industry programs for flooring professionals. In addition, it publishes the only retailer-oriented trade periodical, Premier Flooring Retailer. As part of its mission to enhance the business environment for the independent flooring retailer the WFCA acquired the Certified Floorcovering Installers Association (CFI) to resolve the industry's largest issue — the shortage of qualified installers. The WFCA runs fcB2B, an organization committed to helping business in the industry transition to an e-commerce platform for all business transactions. The WFCA also influences public policy affecting the floor covering industry and consumers. For more information about the WFCA, visit WFCA.org.
SOURCE Mobile Marketing, LLC.